Card Processing Unidentified Critical Error
Card Processing Unidentified Critical Error
This error means that Khaos Control encountered an unrecognized error during the processing of a credit card via a third-party processing system (e.g. Opayo (SagePay), PayPal etc).
This message could potentially mean the card has been charged but Khaos Control did not receive the correct response or there was a problem processing the response, or simply that Khaos Control did not recognised the error and how to handle it.
Before attempting to authorise the payment again, please contact your card processing provider to verify the status of the payment.
In some cases this message could be benign, but due to the important nature of this process we ask you to be cautious and check thoroughly.
Example of Error Message
An error has occurred while trying to process the credit card. It's likely that this card has not been authorised; HOWEVER an attempt was made to send the card details to your card processing software. Please DOUBLE-CHECK that this card has not been processed using the 3rd party software's reporting tools (not Khaos Control) before making any further authorisation attempts.

The error message was:

Sales Order: XXXXX
<<UNKNOWN ERROR MESSAGE TEXT GOES HERE>>

(MAKE A NOTE OF THE ABOVE ERROR MESSAGE BEFORE CALLING KHAOS CONTROL)
How to: Report Errors to Khaos Control Solutions
Error messages can easily be copied to Window's clipboard by pressing Ctrl+C (whilst the error dialog is in focus) and pasted into an email message, which you can send to our support team (support@khaoscontrol.com).
Example
When an error message appears on the screen, for example: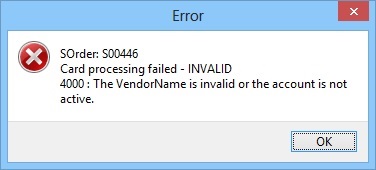 Press Ctrl+C to copy the error message text to Window's clipboard and paste it (Ctrl+V) into an email message:

---------------------------
Error
---------------------------
0: Status: [8] Authorisation Failed (0: [1] Invalid Merchant GUID [7D13AB6C-DEFA-4F0E-B7FD-21343B6FB2CE])
---------------------------
OK 
---------------------------
Did you find this article helpful?